sharebongs
Description
Reviews ( 14 )
Welcome To Sharebongs

We Promised You Excellent Glass Bongs And Sincere Customer Service.
One Products For Free Epacket Shipping. Offer Water Pipes Wholesales, Drop Shipping, And Customer Made.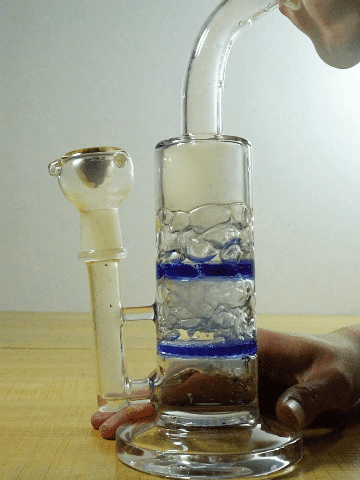 Honeycomb & Disc Percolator Dab Rigs Or Oil Rigs Description:

A honeycomb perc dab rig is a must try for any consumer and if you haven't, the HEMPER Honeycomb Rig will become an instant classic in your collection. Take one look at the perc and you'll know where it gets its name. The decked this rig out with a 360 degree connected Honeycomb percolator placed around the tube of a pitch-neck barrel style rig providing maximum diffusion with minimal splashback.
All of this packed into a small rig means its great for travel and certainly excellent for sampling concentrated terps and flower alike.
Specifications:
Material: Glass
Color: Blue, Clear
Joint: 18mm male joint
Height: 27cm (10.7inch glass bong)
Net Weight: about 450g
Glass Thickness: 4mm
You will receive: 1pc glass bong + 1pc glass bowl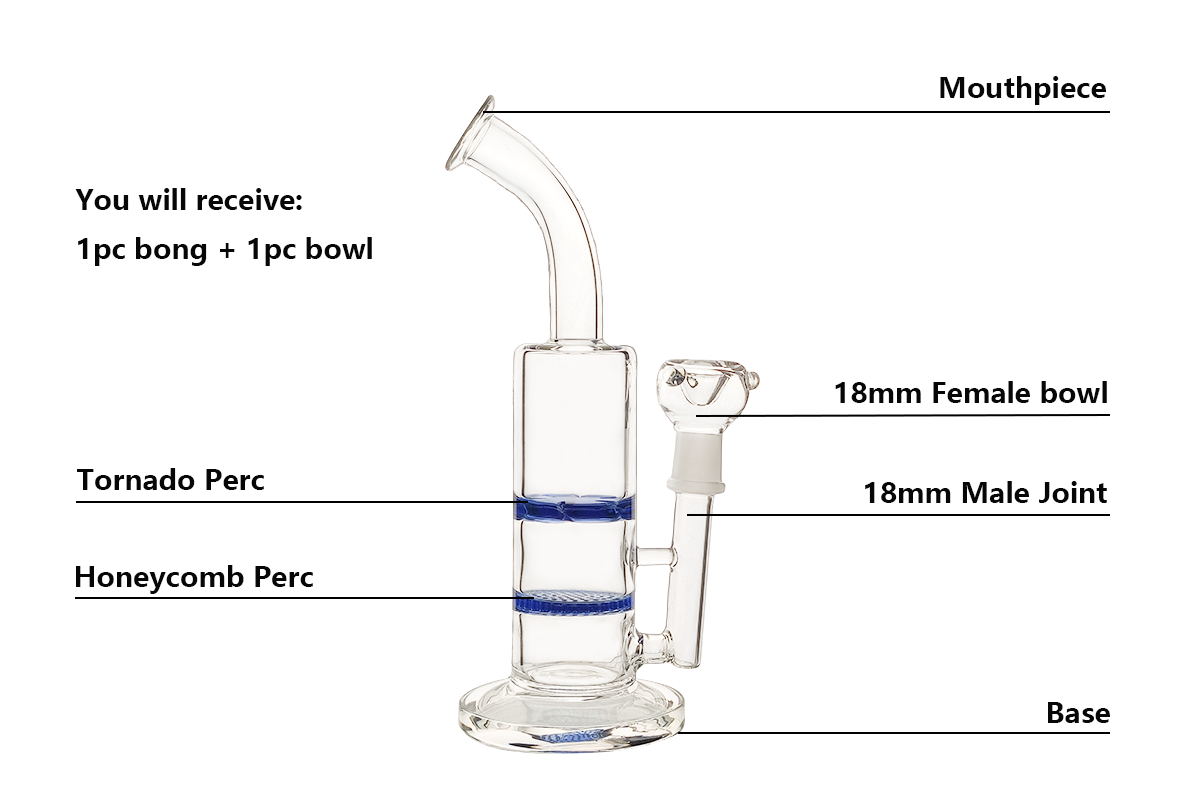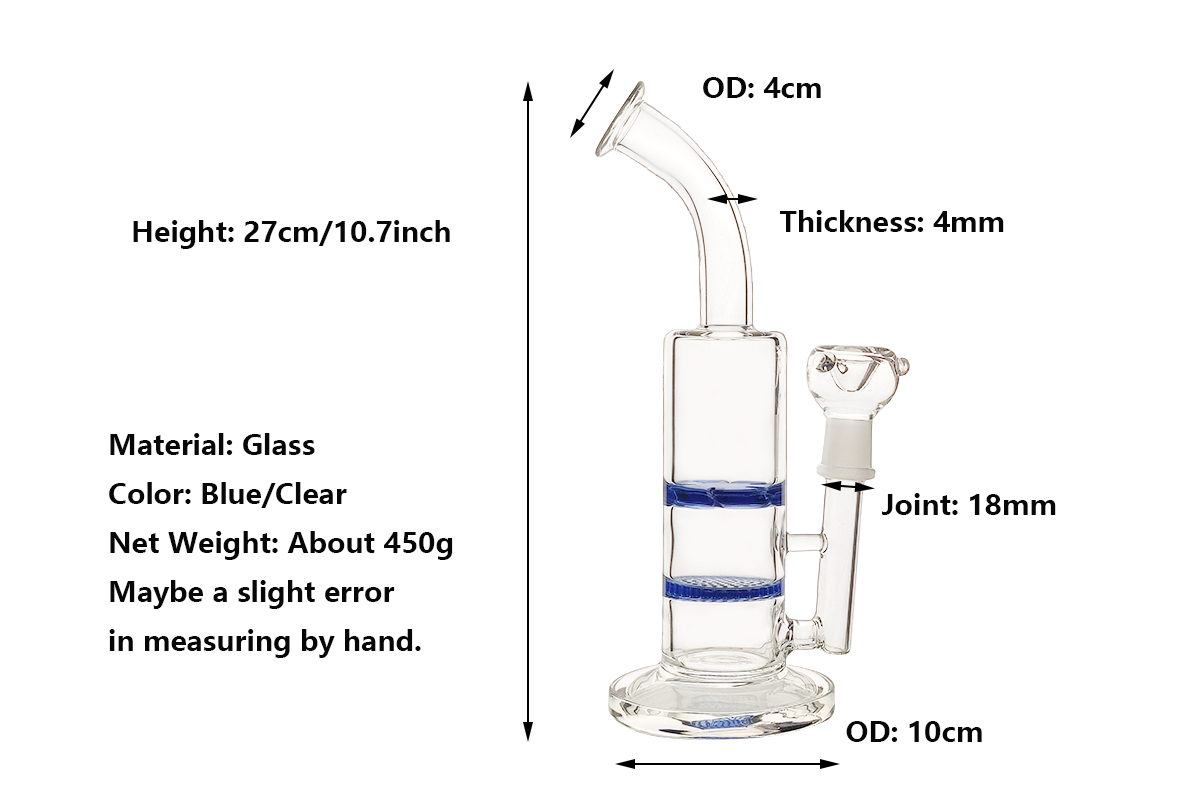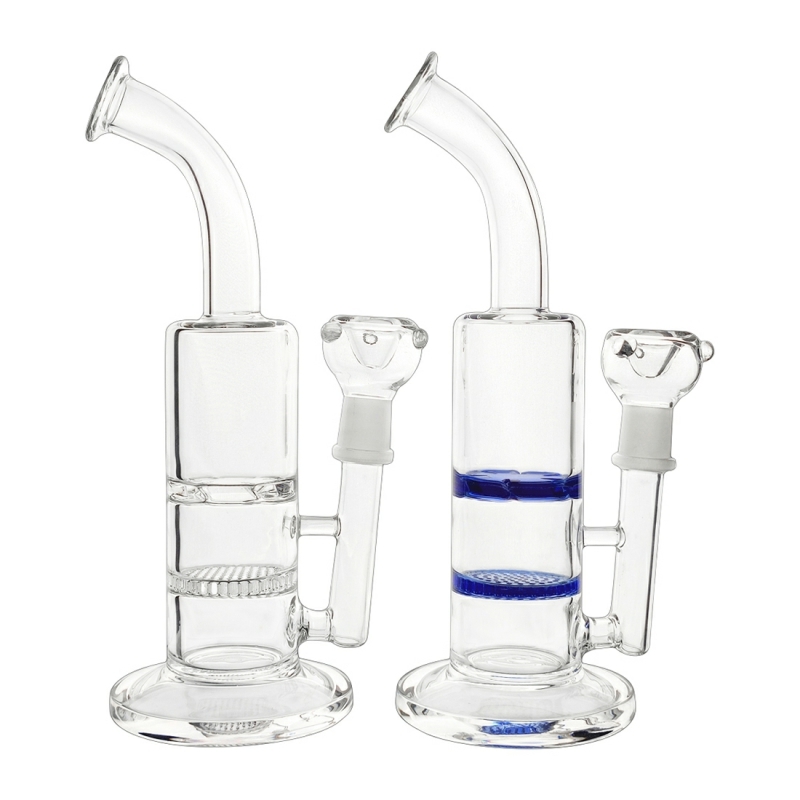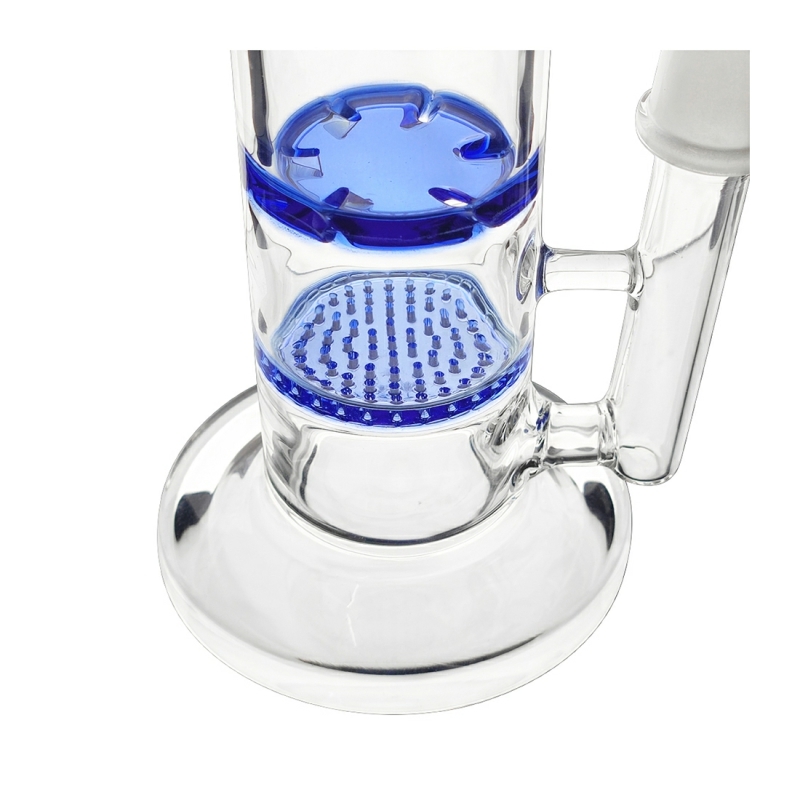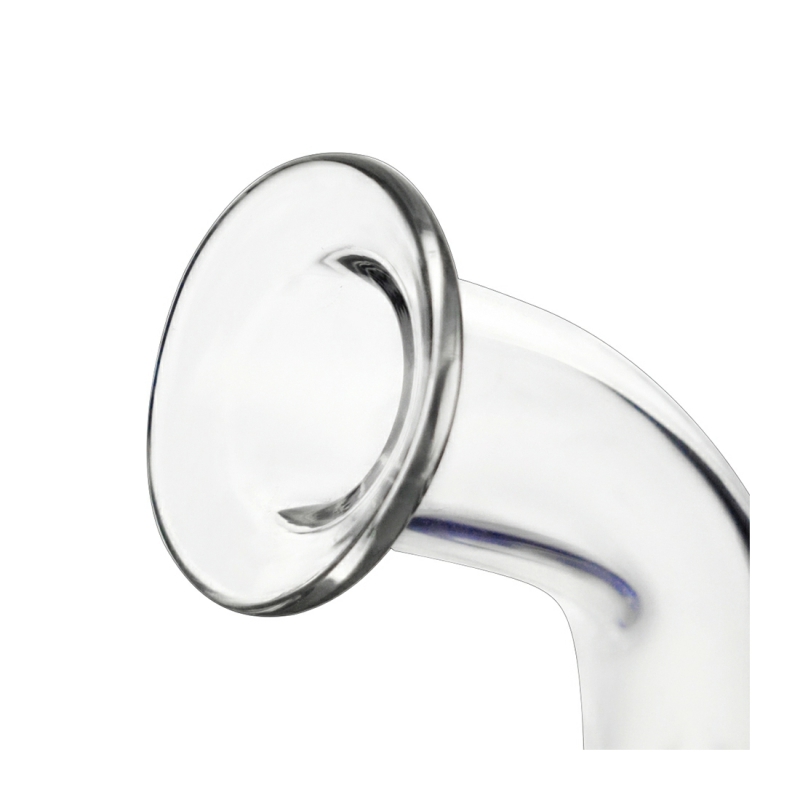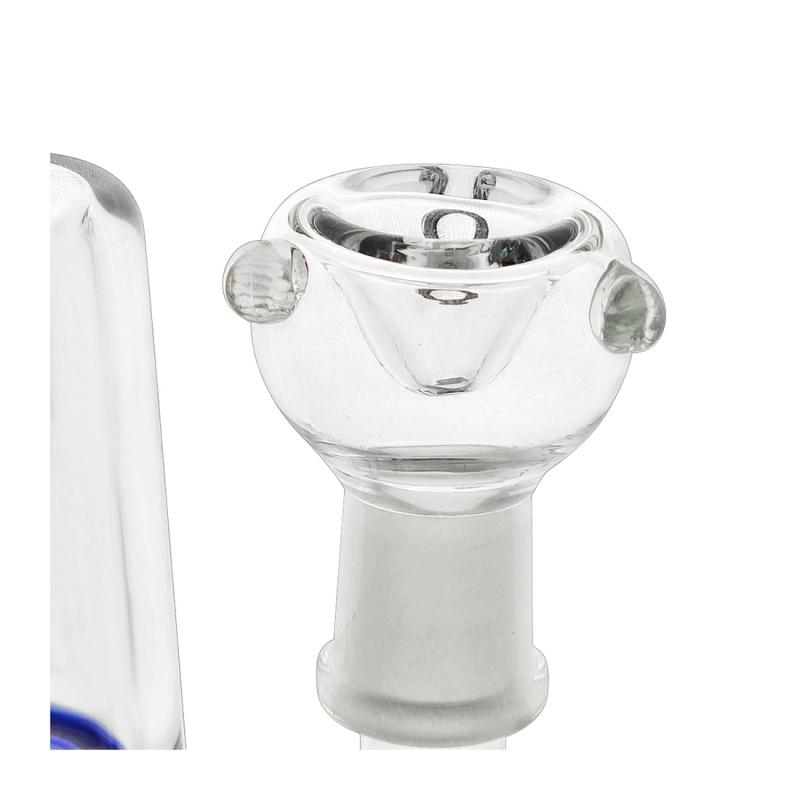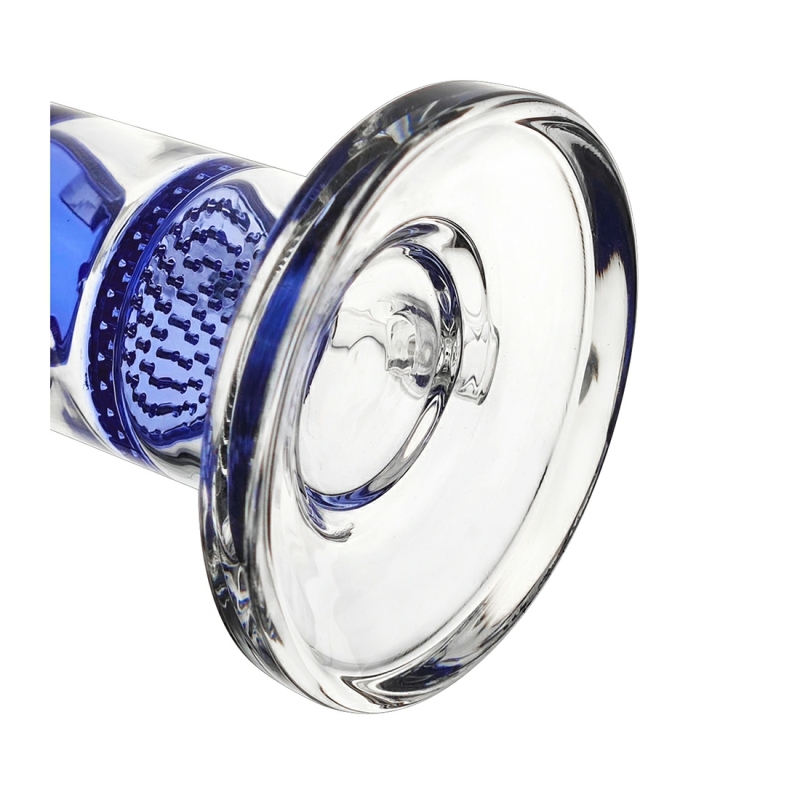 Promises and guarantees:
1, Your items will be shipped out within 3 working days after order comfirmed.
2, Normally, ePacket takes 10-23days shipping depends on weather and carrier.
3, Please send us pictures if your items were broken during the transit, we will arrange reshipment within 3 working days after checked out.
4, If your parcel was returned by custom, please send us a new and different address for reshipment.
5, Please contact us (Email:tianluo@sharebongs.com) if you need any help. Please try to communicate before open a dispute.
For more Warranty and Return, please visit the Warranty and Return page.

Byfds**56Saturday, 24 April 2021
Everything on this bong is perfect. The double perc is not too restrictive but still gives a smooth hit. The turbine doesn't actually do much, but it does work as a splash guard and creates somewhat of an effect when smoke is pulled through. Overall, the size, thickness, and functionality of this piece is perfect for a smoker who is looking for something something semi-portable and very solid and with a clean look.
Read more
Read less
By**68EerSaturday, 24 April 2021
It's a gift that I'm positive will be accepted wholeheartedly 💚
Read more
Read less
ByDV342R*Wednesday, 21 April 2021
Quality and thickness of the glass was surprisingly pleasing. Though the glass stem and cone fit weirdly at times it should not affect anything. Great buy
Read more
Read less
ByFG**56Tuesday, 20 April 2021
It may be 10 inches but this little guy packs a punch! Got it a day early, and loving my new bong. Perfect size for those who are always on the go.
Read more
Read less
By8945**hbMonday, 19 April 2021
Pipe works amazing. Great size and weight. Only issue was that the wrong color sent. Besides that, great pipe!
Read more
Read less
ByCC**dgdMonday, 19 April 2021
Super pleased with this purchase! It's so beautiful, and strong. It's medium sized and super well packaged. Got here a week early. Rips super smooth and strong!
Read more
Read less
ByHF99**feMonday, 19 April 2021
Excellent quality and even better price. Will recommend and make another purchase.
Read more
Read less
ByOU**9tySunday, 18 April 2021
Very cool piece; it's massive. Hits very well. No noticeable imperfections.
Read more
Read less
ByDF**EFSaturday, 17 April 2021
Hits super nicely and it's one of the best bongs i've had
Read more
Read less
ByDD**54fgSaturday, 17 April 2021
Received on the US West Coast in about a month. Glass is nice and thick, and feels good in the hand. Color is exactly as pictured. Everything came intact and well packaged. I am very happy with my purchase.
Read more
Read less
ByBBHD.KFriday, 16 April 2021
For only $45 this rig is all you need. The perk works great. Best bang for your buck
Read more
Read less
Bydws**55Thursday, 15 April 2021
I absolutely love Sharebongs glass. Thick, durable glass. Deep pack on it, smooth hits. This pipe turns a little into a lot.
Read more
Read less
Byds**536dTuesday, 13 April 2021
awesome product! even asked for certain colours and that was honoured . will order from this seller again for sure!
Read more
Read less
ByHH7tt**Saturday, 10 April 2021
Getting older now and my throat just couldn't take it any more. The bubbler is easy to use and makes such a difference, totally smooth. Never going back.
Read more
Read less
You must be 21 years or older to browse this website and purchase products.
Share Bongs is an online store for smoking accessories. All Glass Bong or Dab Rigs are intended for legal dry herb or tobacco usage. The statements and vaporizers & products shown on this website have not been evaluated by the US Food and Drug Administration (FDA). These devices are not designed to diagnose, cure, prevent, or treat any disease. Before using a vaporizer, please consult with a licensed health care provider. If you use a vaporizer, you do so at your own risk. Inhalation is inadvisable and may potentially be harmful. Any comments from user-submitted reviews found on this website are related to the users own personal experiences, and are not endorsed, reviewed, or necessarily shared by sharebongs.com or its affiliates. Vaporizing does not necessarily eliminate any and all toxins found in vaporized substances, so much care should be taken prior to use. By using sharebongs.com, you acknowledge and agree to abide by our Terms of Use page before making any purchase on this website.