sharebongs
12 Inch Straight Tube Water Pipe With Triple Honeycomb Perc & Birdcage Perc
Inquiry Now
Description
specifics
Reviews ( 10 )
We Promised You Excellent Glass Bongs And Sincere Customer Service.
One Products For Free Epacket Shipping. Offer Water Pipes Wholesales, Drop Shipping, And Customer Made.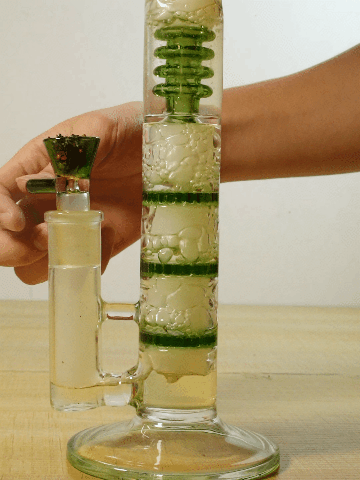 Birdcage Perc Dab Rig Big Triple Comb Oil Rigs Description:

The Double Stereo Perc Water dab rig gives you the ideal hit during every smoking session, with a complex stereo matrix perc for excellent filtration, and an awesome scientific design. This back-to-basics piece will offer plenty of filtration and great-tasting hits. As the smoke flows from the bowl through the piece, it will pass into the water chamber. The water has a cooling effect, removing the smoke's harsh taste. Then, the smoke will pass through the double matrix percolator. The dual matrix percs play a major role in providing smooth hits. Finally, the smoke will make contact with the ice catcher. This pinched will keep ice elevated, cooling the smoke down to an even more comfortable temperature. The pinch bowl makes bowl removal simple, easy and convenient.
Specifications:
Material: Glass
Color: Blue, Green, Clear
Joint: 18mm Female Joint
Height: 32cm (12.6inch ice bong)
Net Weight: about 460g
Base Diameter: 10cm
Glass Thickness: 5mm
You will receive: 1pc glass bong + 1pc glass bowl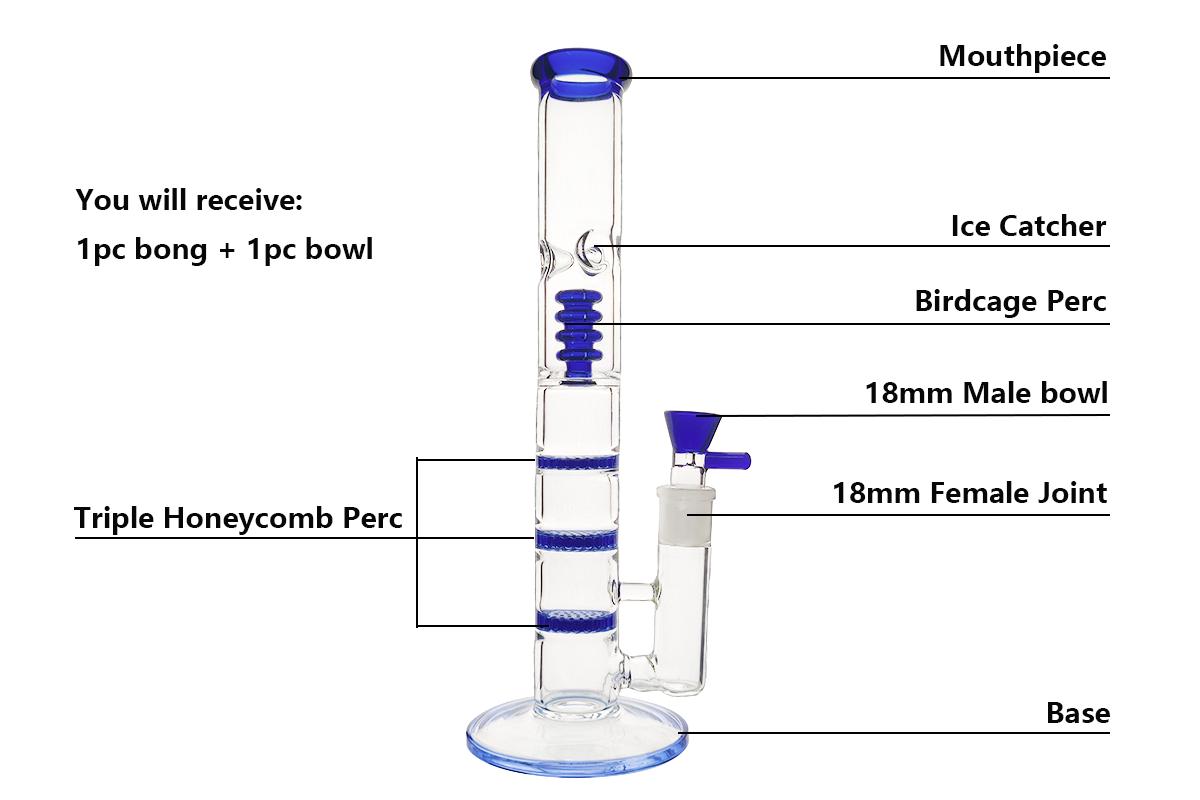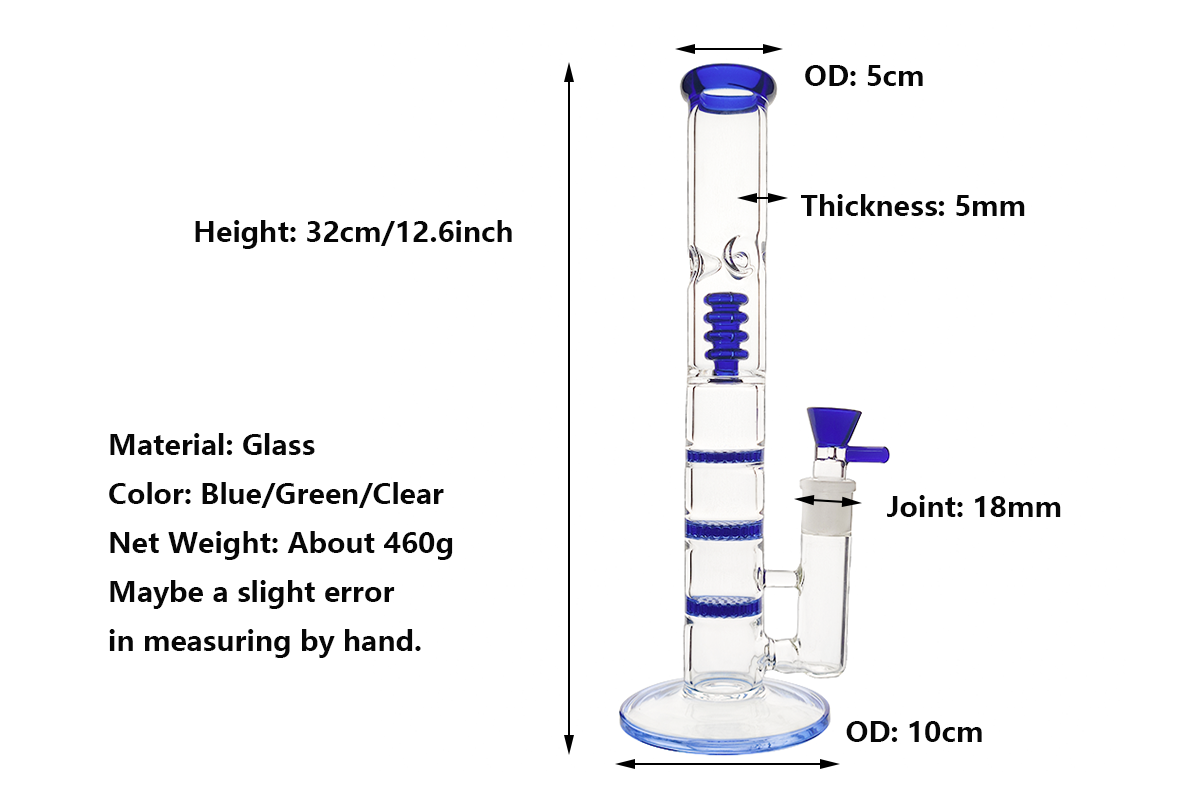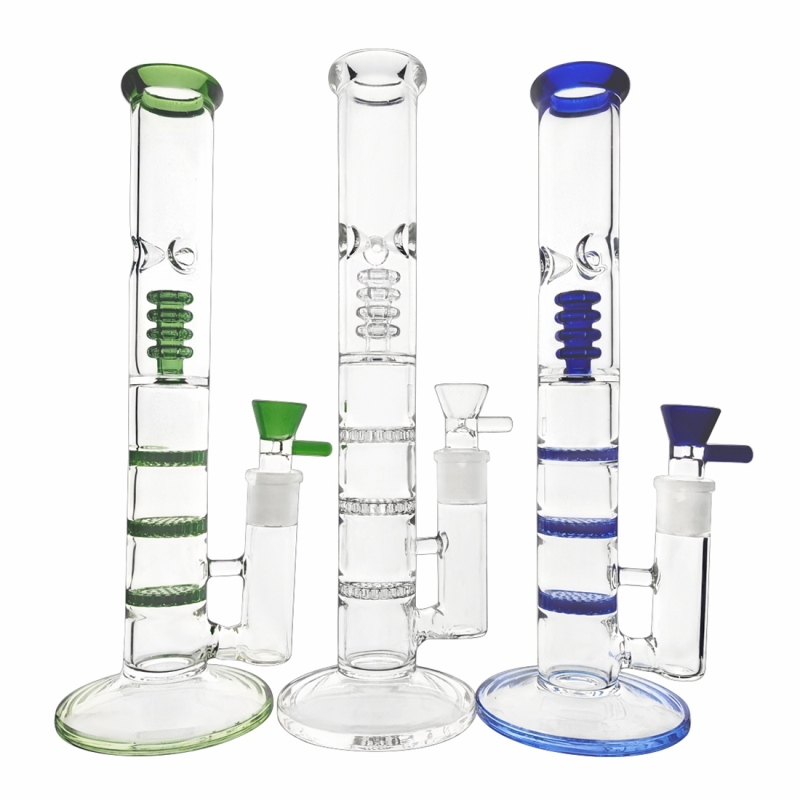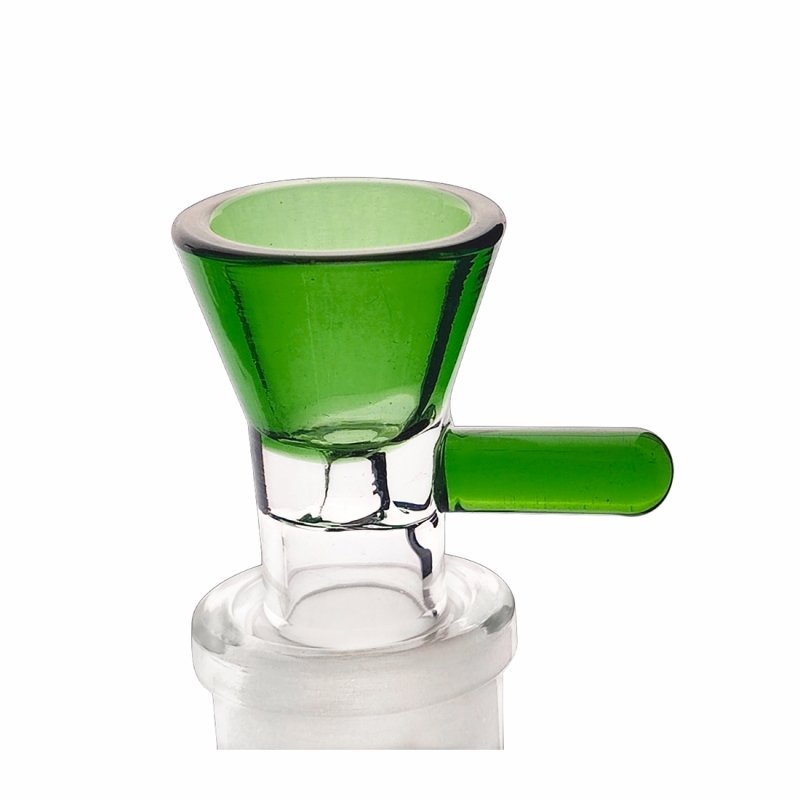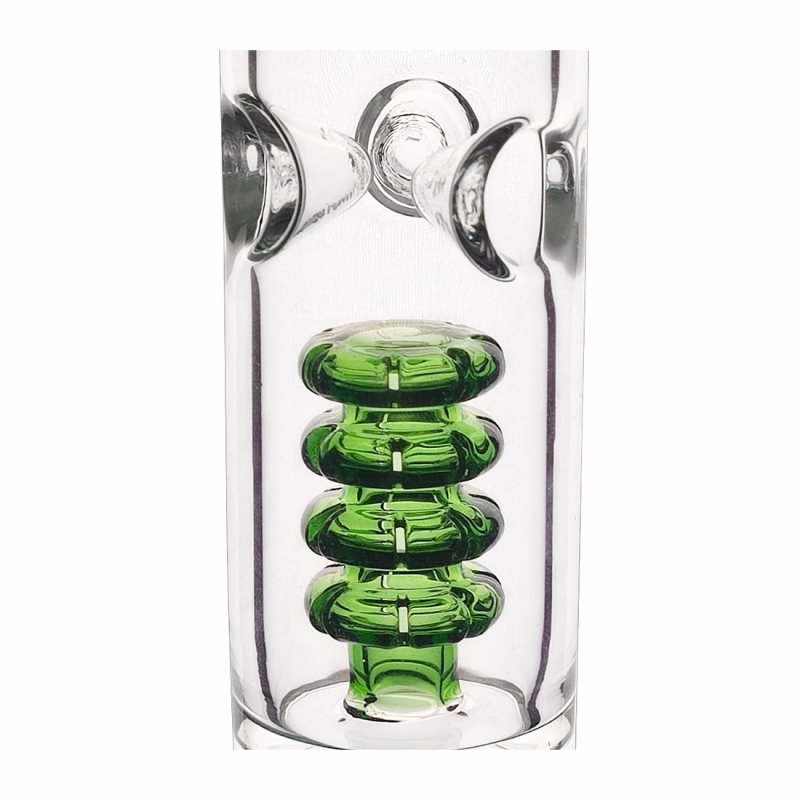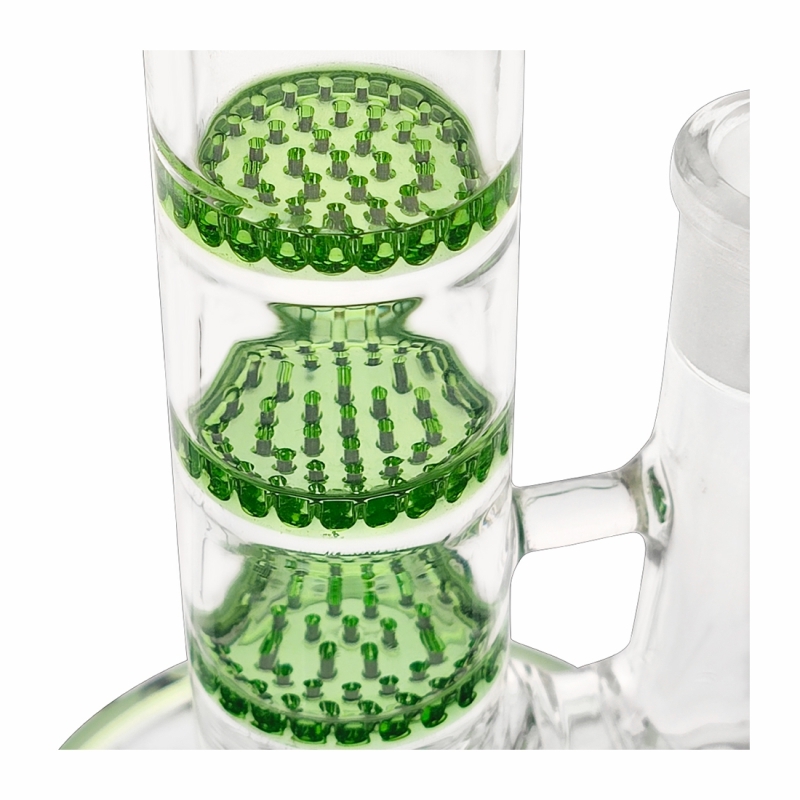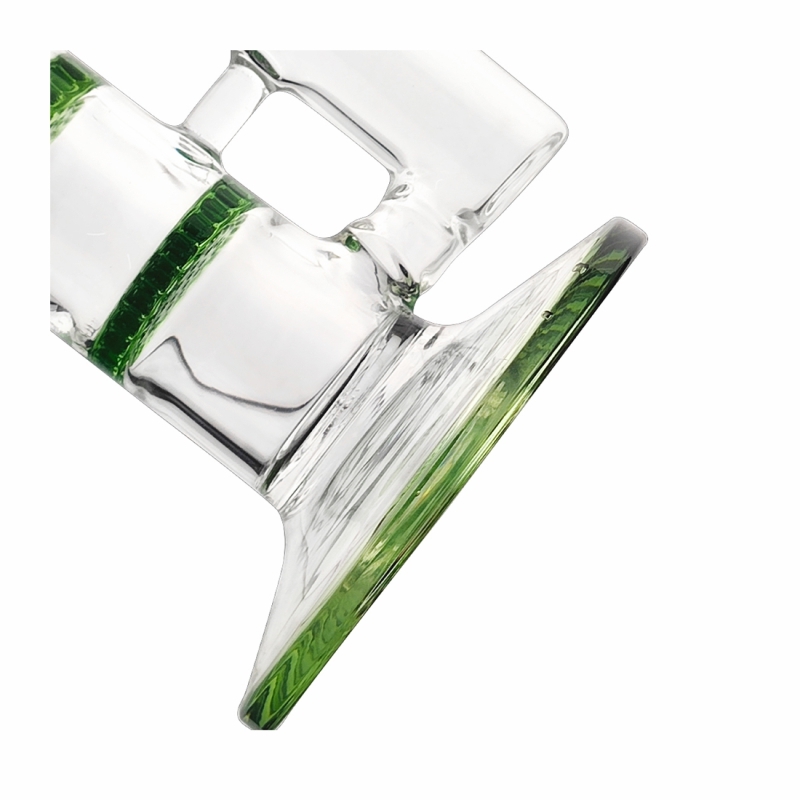 Promises and guarantees:
1, Your items will be shipped out within 3 working days after order comfirned.
2, Normally, ePacket takes 10-23days shipping depends on weather and carrier.
3, Please send us pictures if your items were broken during the transit, we will arrange reshipment within 3 working days after checked out.
4, If your parcel was returned by custom, please send us a new and different address for reshipment.
5, Please contact us (Email:tianluo@sharebongs.com) if you need any help. Please try to communicate before open a dispute.
For more Warranty and Return, please visit the Warranty and Return page.
FEATURES:

Triple Honeycomb,birdcage Percolator,Ice pinch
Byddsf**67Wednesday, 28 April 2021
Bydf**56Wednesday, 28 April 2021
Bysqs**6767Tuesday, 27 April 2021
ByDFD**56Tuesday, 27 April 2021
I've had many honeycomb bongs over the years. It's my favorite perc and I certainly think that this bong takes the cake for functionality, airflow, and the whole 9 yards. I do recommend
Read more
Read less
ByYUT**64Monday, 26 April 2021
After only having this piece for around two weeks I can say it is one of the greatest pieces I've ever used, especially for the price
Read more
Read less
Bydwe**67Sunday, 18 April 2021
The shape makes it easy to grasp, this is definitely an upgrade. The height is perfect. Will buy from this website again for sure!!! Good quality happy great service fast delivery. Was not damaged at all. Just trying to get the discount lol
Read more
Read less
ByFER45**Friday, 16 April 2021
This is a cool looking piece and it hits good. It's a nice size, too. I would recommend this piece to everyone.
Read more
Read less
ByGG**269Thursday, 15 April 2021
Best bong I have ever had, hands down, and I've had a lot of bongs over the years. Solid, durable, well crafted, great draw, beautiful smoke cloud, very efficient burn. I am actually using less weed and getting higher.
Read more
Read less
BySDS5432*Thursday, 15 April 2021
Most importantly, this thing chuggs!!! An ice pinch to cool your smoke, you can pull massive rips with this guy and never any splash back like on lower quality local shop pieces. Overall an awesome purchase that I would definitely make again!
Read more
Read less
ByFDGR22**Sunday, 11 April 2021
High quality beautiful work. I love my new bong. Thank you!
Read more
Read less
You must be 21 years or older to browse this website and purchase products.
Share Bongs is an online store for smoking accessories. All Glass Bong or Dab Rigs are intended for legal dry herb or tobacco usage. The statements and vaporizers & products shown on this website have not been evaluated by the US Food and Drug Administration (FDA). These devices are not designed to diagnose, cure, prevent, or treat any disease. Before using a vaporizer, please consult with a licensed health care provider. If you use a vaporizer, you do so at your own risk. Inhalation is inadvisable and may potentially be harmful. Any comments from user-submitted reviews found on this website are related to the users own personal experiences, and are not endorsed, reviewed, or necessarily shared by sharebongs.com or its affiliates. Vaporizing does not necessarily eliminate any and all toxins found in vaporized substances, so much care should be taken prior to use. By using sharebongs.com, you acknowledge and agree to abide by our Terms of Use page before making any purchase on this website.