sharebongs
Double Matrix Perc Straight Tube Bong
stars, based on
18
reviews
Inquiry Now
Description
specifics
Reviews ( 18 )
Welcome To Sharebongs
We Promised You Excellent Glass Bongs And Sincere Customer Service.
One Products For Free Epacket Shipping. Offer Water Pipes Wholesales, Drop Shipping, And Customer Made.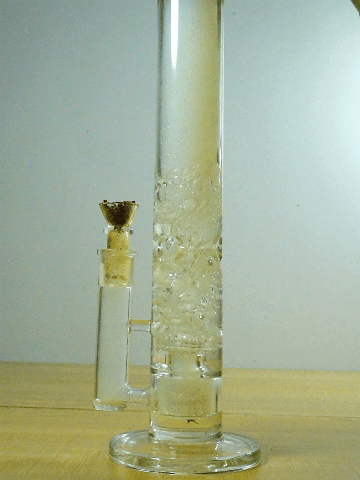 Newest Ice Pinch Double Matrix Perc Straight Tube Glass Bongs Specifications:

The 18mm Female Joint Ice Pinch Double Stereo Perc Water Pipe gives you the ideal hit during every smoking session, with a complex stereo matrix perc for excellent filtration, and an awesome scientific design. This back-to-basics piece will offer plenty of filtration and great-tasting hits. As the smoke flows from the bowl through the piece, it will pass into the water chamber. The water has a cooling effect, removing the smoke's harsh taste. Then, the smoke will pass through the double matrix percolator. The dual matrix percs play a major role in n providing smooth hits. Finally, the smoke will make contact with the ice catcher. This pinched will keep ice elevated, cooling the smoke down to an even more comfortable temperature. The pinch bowl makes bowl removal simple, easy and convenient.

Specifications:
Material: Glass
Color: Clear
Joint: 18mm Female Joint
Height: 36cm (14inch best straight tube bong)
Net Weight: about 740g
Base Diameter: 10.5cm

Glass Thickness: 5mm
You will receive: 1pc glass bong + 1pc glass bowl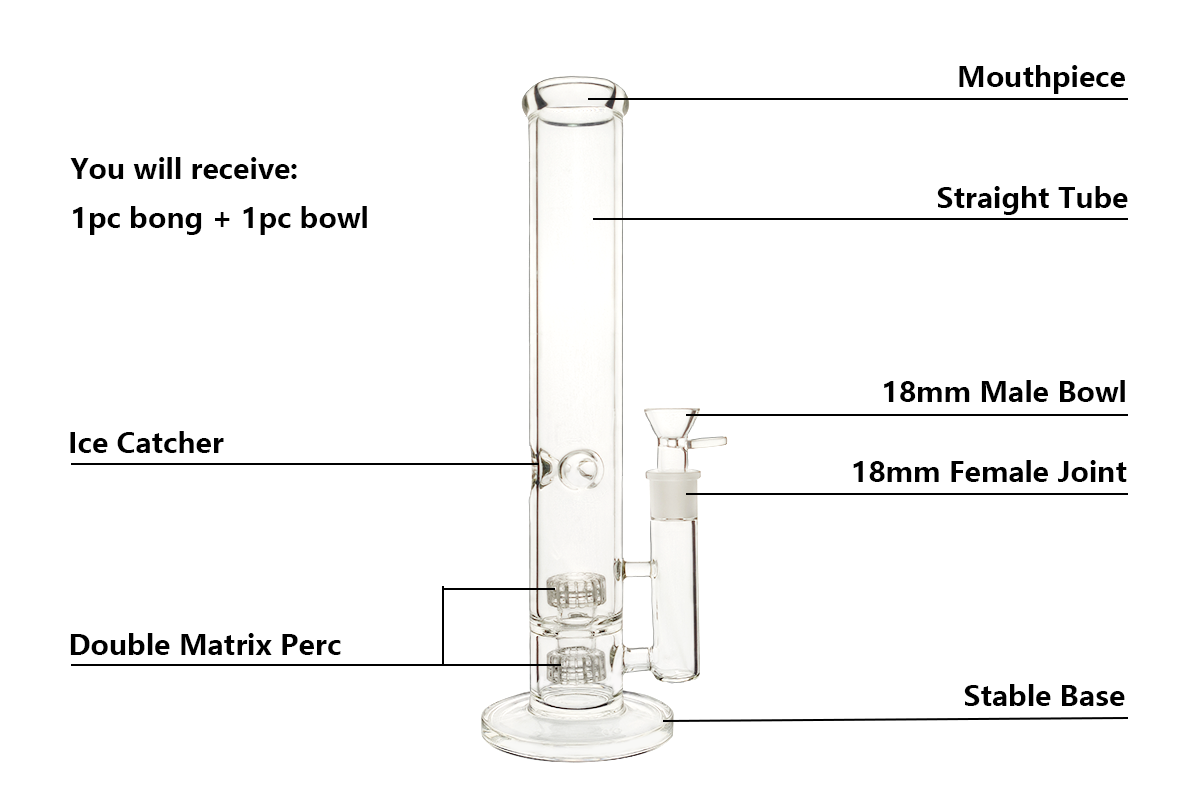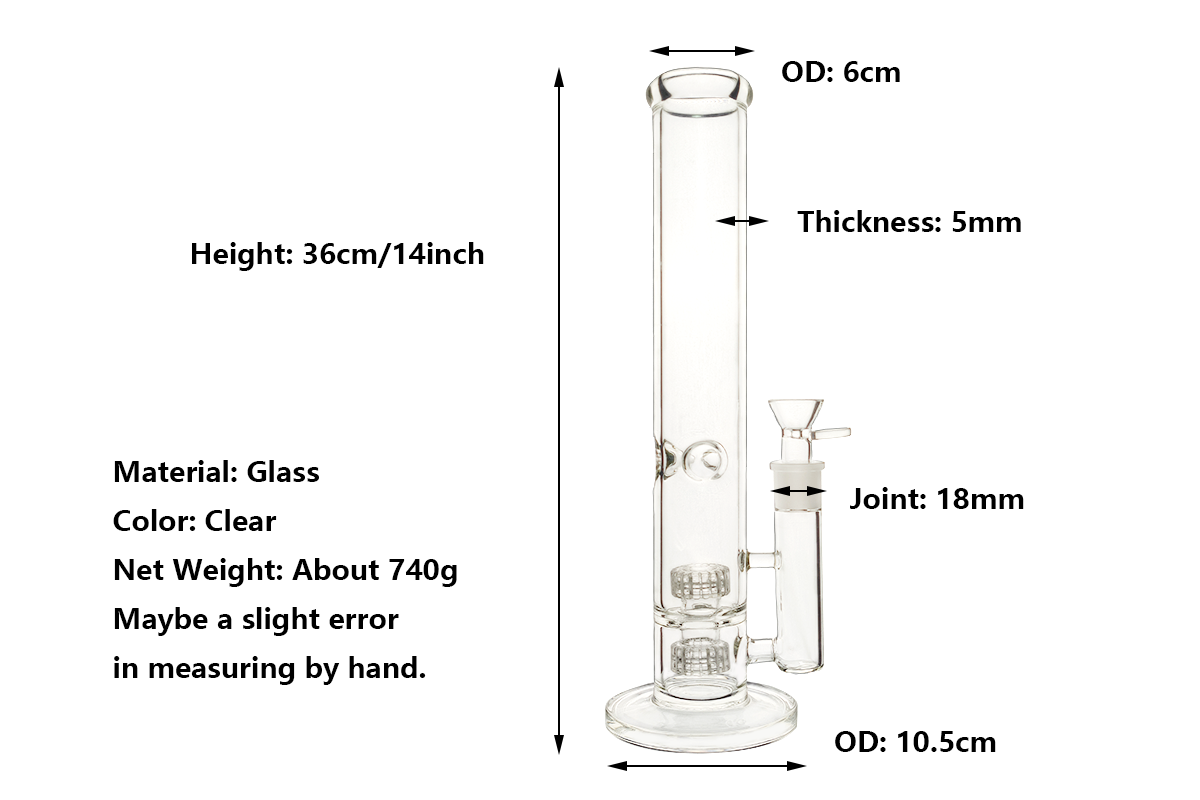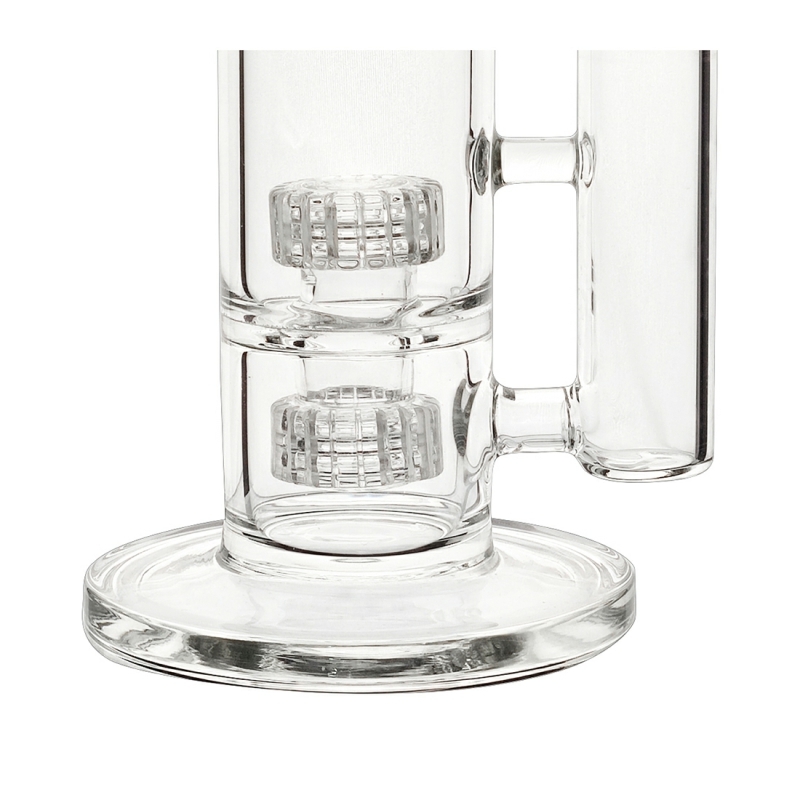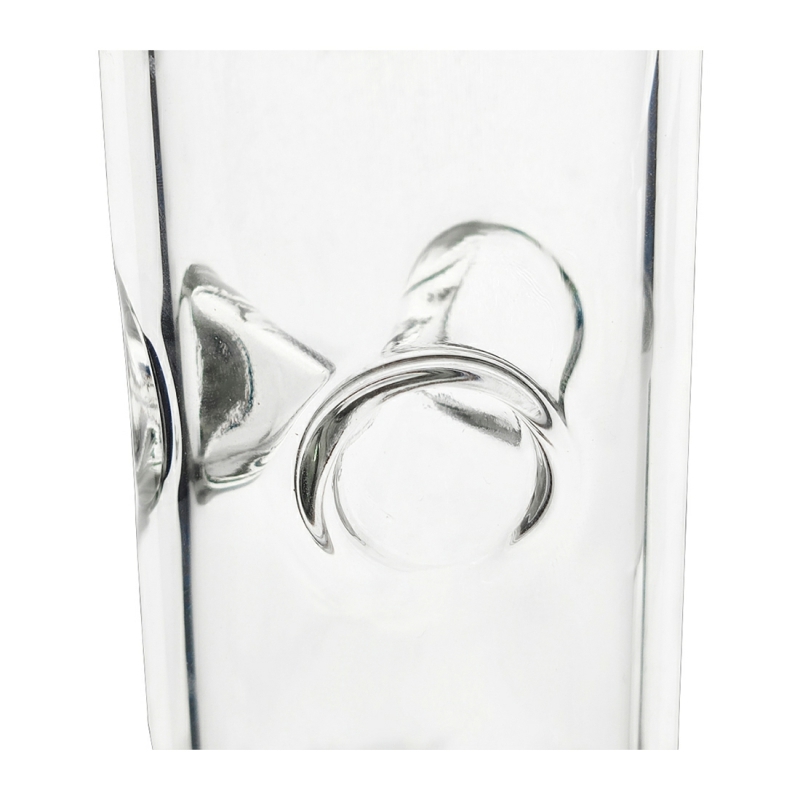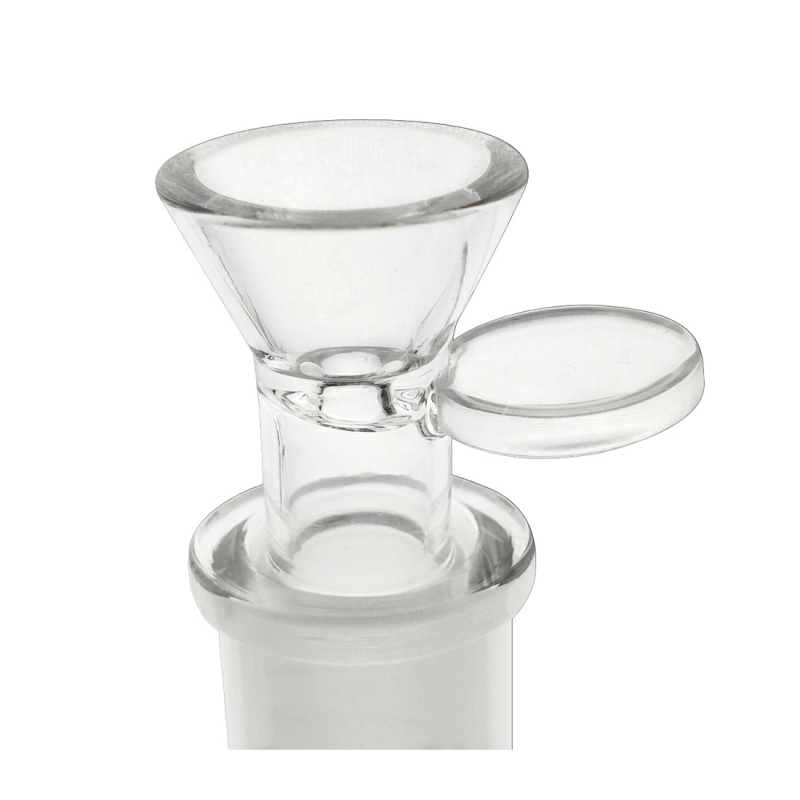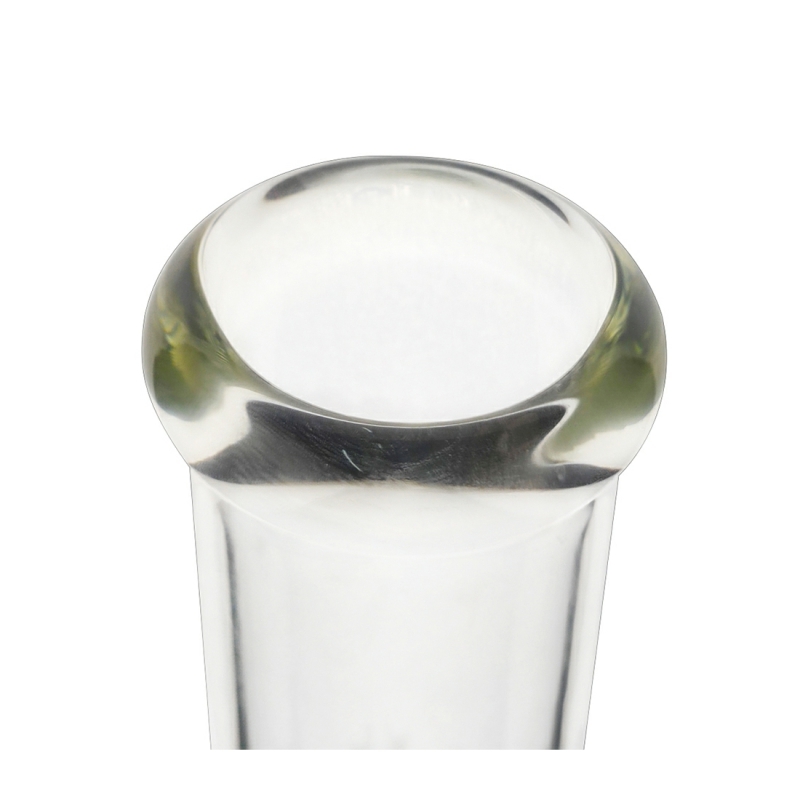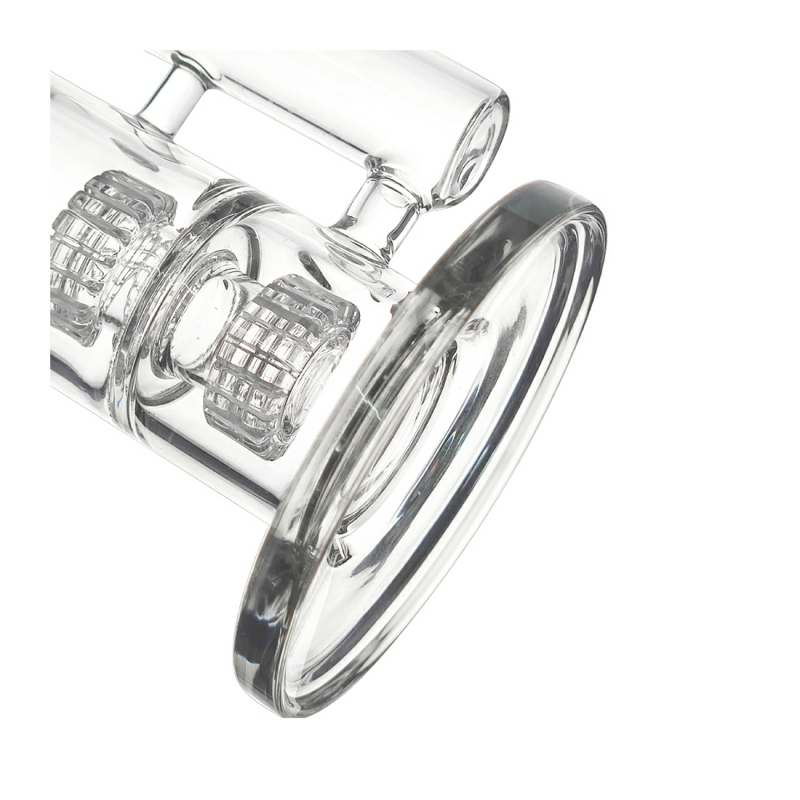 Promises and guarantees:
1, Your items will be shipped out within 3 working days after order comfirmed.
2, Normally, ePacket takes 10-23days shipping depends on weather and carrier.
3, Please send us pictures if your items were broken during the transit, we will arrange reshipment within 3 working days after checked out.
4, If your parcel was returned by custom, please send us a new and different address for reshipment.
5, Please contact us (Email:tianluo@sharebongs.com) if you need any help. Please try to communicate before open a dispute.
For more Warranty and Return, please visit the Warranty and Return page.

FEATURES:

Stereo Matrix Percolator,Ice pinch,18mm Female Joint ,14 inch
ByKO***32Tuesday, 18 May 2021
A little smaller than I expected but it's perfect for what I need. My partner and I use it daily. It gets dirty pretty easily so that's the only drawback. But I like to keep my pieces clean so I stay on top of that and it doesn't bother me much.
Read more
Read less
ByGJ**22Wednesday, 12 May 2021
Great quality and function. recommend!
Read more
Read less
ByUO***erMonday, 03 May 2021
I fkn love it. Swirls up like a tornado inside when you get a good hit
Read more
Read less
ByFER**00Wednesday, 28 April 2021
Zong is awesome, hits are huge but smooth
Read more
Read less
ByHHR**09Tuesday, 27 April 2021
Shipping was fast which was awesome and the bong is way bigger than I initially thought which was a cool surprise
Read more
Read less
By78**RRTFriday, 23 April 2021
Excellent piece, light but hearty, well balanced, works for one hit and long smoldering bowls, perfect ice cube volume
Read more
Read less
ByFD**005Thursday, 22 April 2021
Love it! Little smaller than I hoped for but I love how heavy it is for its size. Touch Feels great in my hands. Perfect height for excellent hits. Website took a little longer than it said(why 4 instead of 5) but all in all I'm very happy.
Read more
Read less
ByFF*rt88Wednesday, 21 April 2021
Superb said my husband. Smooth and stylish. Worth every penny.
Read more
Read less
ByJordan C.Tuesday, 20 April 2021
I love this piece! It has great function and it comes with a super nice banger!
Read more
Read less
ByOPYGV**67Monday, 19 April 2021
I bought this item to replace one that broke on me. It was from the same company. Felt like the quality was too good to pass up, and the price was very reasonable.
Read more
Read less
By90**gtyMonday, 19 April 2021
Ice bong, so smooth Love it especially with ice. Sturdy glass and easy to clean
Read more
Read less
ByOOf**reMonday, 19 April 2021
Best glass bong! Every single piece was wrapped
Read more
Read less
ByMIKESunday, 18 April 2021
Perfect for traveling or just using at home. Fast shipping!
Read more
Read less
Byfef*5tfgSaturday, 17 April 2021
for the most part super dope piece my ONLY issues are the inlet for the air is 1/3 stock sizei feel like if it was higher it would really rip. but totally worth the price
Read more
Read less
ByGHHU**78Wednesday, 14 April 2021
Nice size and weight. Smooth smoke. Comes in enough parts to make cleaning easy enough. Really good delivery time. So hungry now though.
Read more
Read less
ByKK99**sTuesday, 13 April 2021
Affordable, really lovely packaging. Would definitely order again, would prefer thicker glass but it works perfectly.
Read more
Read less
Bynbg**89Tuesday, 13 April 2021
I purchased this pipe about a week ago, it's a great piece of glass! I've cleaned it once already and never got anything in my mouth yet because of that ash-catcher.
Read more
Read less
ByUU85*fgMonday, 12 April 2021
Was pretty excited on getting it and just not even a month of having it I was cleaning it with alcohol and salt and it literally snapped in half. Pretty bummed
Read more
Read less
You must be 21 years or older to browse this website and purchase products.
Share Bongs is an online store for smoking accessories. All Glass Bong or Dab Rigs are intended for legal dry herb or tobacco usage. The statements and vaporizers & products shown on this website have not been evaluated by the US Food and Drug Administration (FDA). These devices are not designed to diagnose, cure, prevent, or treat any disease. Before using a vaporizer, please consult with a licensed health care provider. If you use a vaporizer, you do so at your own risk. Inhalation is inadvisable and may potentially be harmful. Any comments from user-submitted reviews found on this website are related to the users own personal experiences, and are not endorsed, reviewed, or necessarily shared by sharebongs.com or its affiliates. Vaporizing does not necessarily eliminate any and all toxins found in vaporized substances, so much care should be taken prior to use. By using sharebongs.com, you acknowledge and agree to abide by our Terms of Use page before making any purchase on this website.