sharebongs
Description
specifics
Reviews ( 13 )
Welcome To Sharebongs
We Promised You Excellent Glass Bongs And Sincere Customer Service.
One Products For Free Epacket Shipping. Offer Water Pipes Wholesales, Drop Shipping, And Customer Made.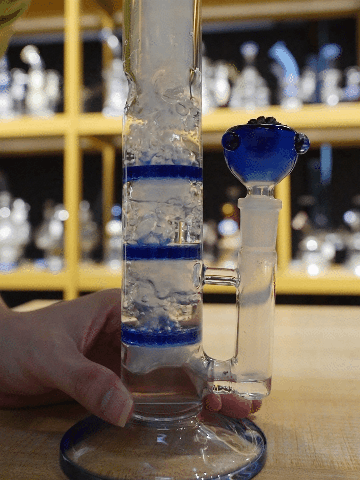 Triple Layer Honeycomb Percolator Colorful Straight Tube Glass Bong Description:

Light up and enjoy three times the filtration and diffusion with the 10" triple honeycomb percolator bongs! At 10" high and crafted from ultra-durable scientific glass, this tube provides three levels of honeycomb perc diffusion through the main chamber. Topped with a flared mouthpiece to tightly seal the smoke and provide maximum inhalation, this bong sits on a sturdy base platform to guarantee stability on flat surfaces.
Thanks to the ice catcher bongs, you can insert ice cubes in the top of the glass bong for even cooler smoke, without worrying about them falling in. With a sturdy base, you can place this piece down on your coffee table without worrying about it falling over. The Dewar's joint reinforces the connection between the joint and the water pipe, preventing damage from light falls. Choose between amber, green or blue colored glass accents.
Specifications:
Material: Glass
Color: Blue, Green, Amber
Joint: 14mm Female Joint
Height: 28cm (11inch best straight tube bong)
Net Weight: about 400g
Base Diameter: 10cm
Glass Thickness: 5mm
You will receive: 1pc glass bong + 1pc glass bowl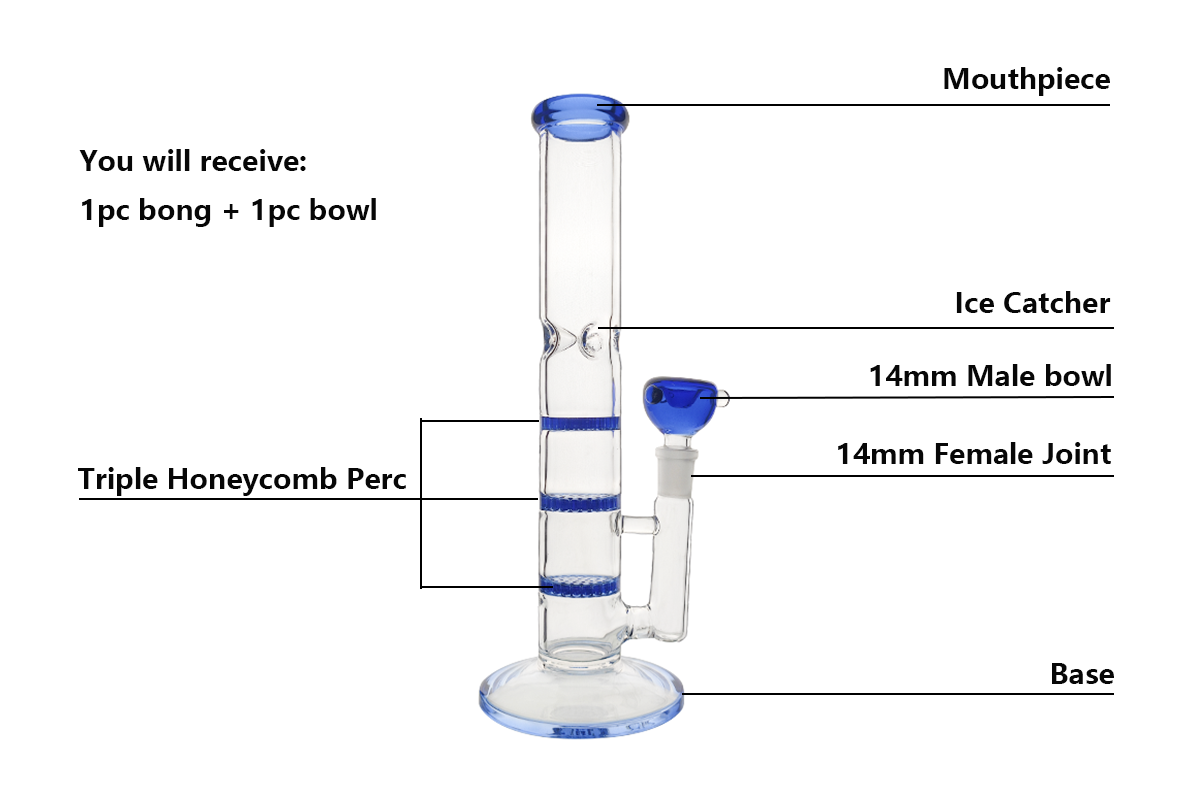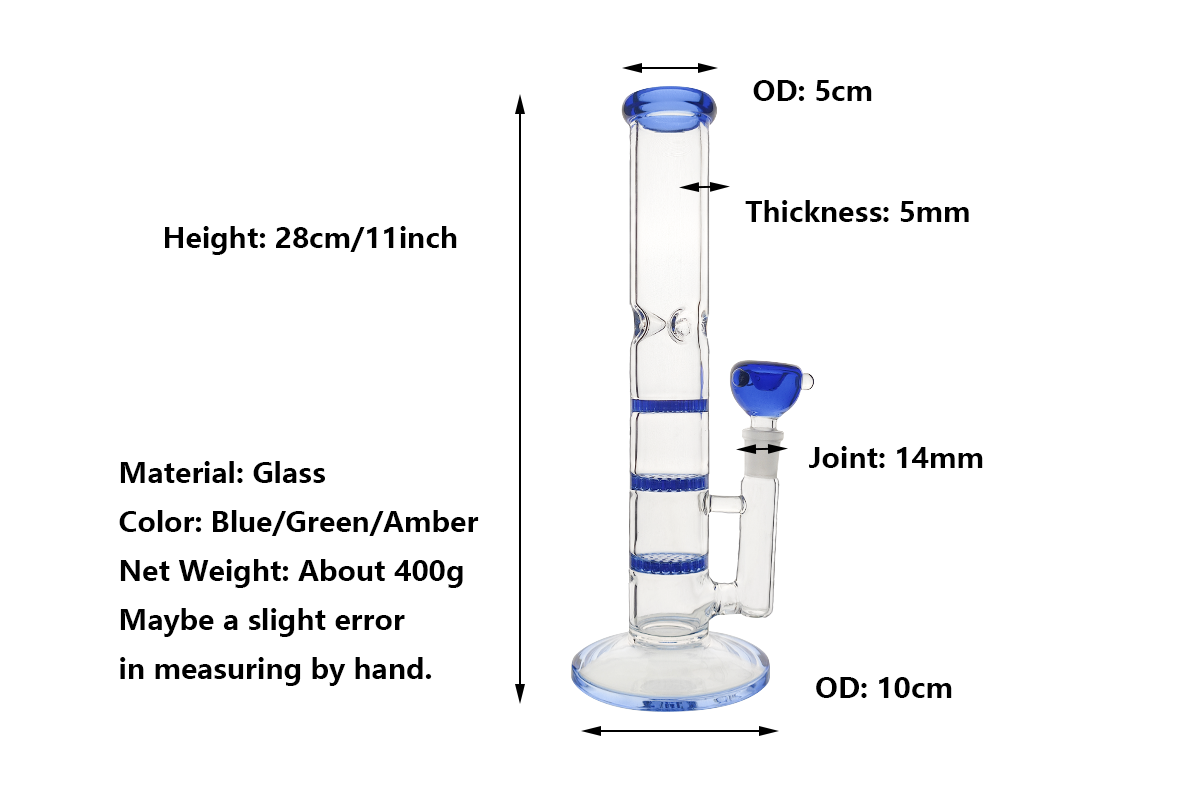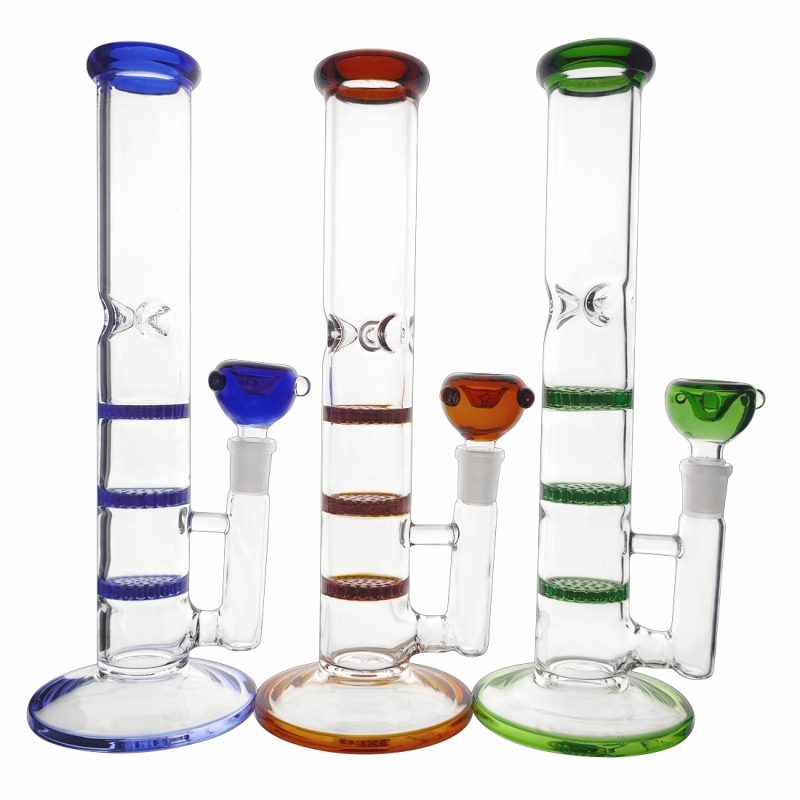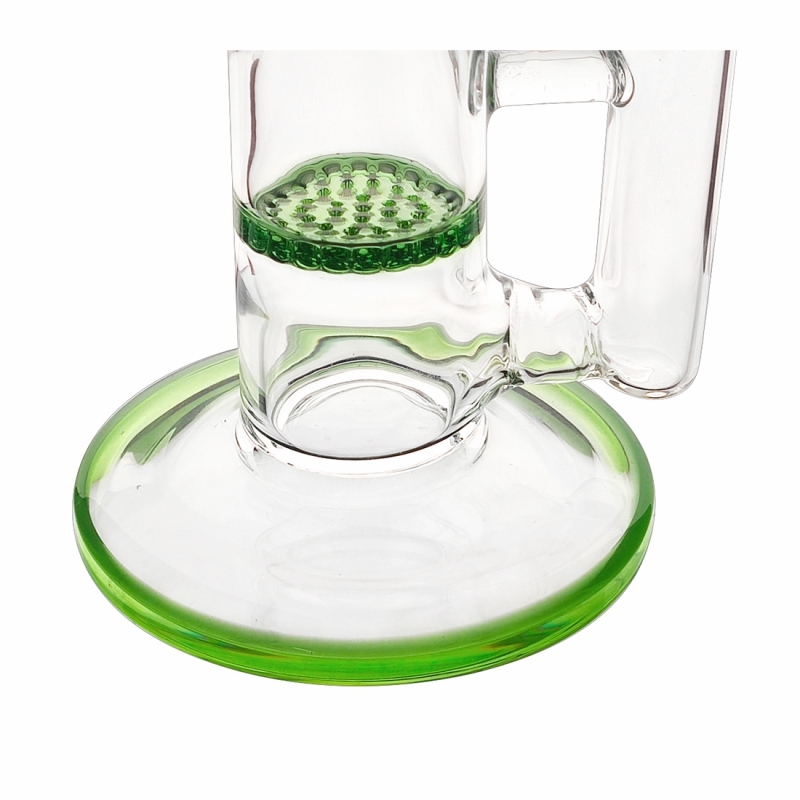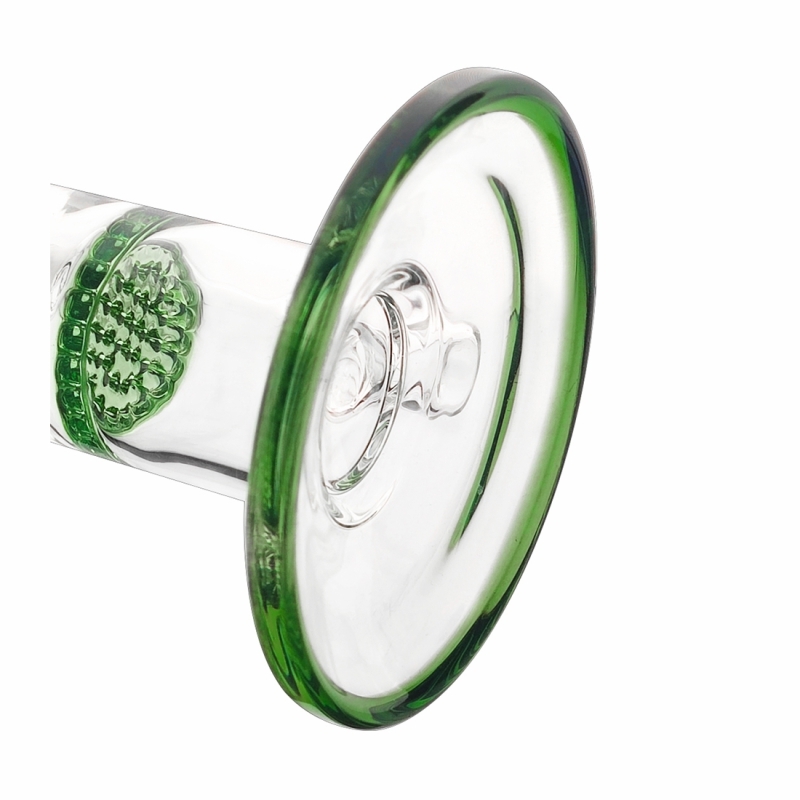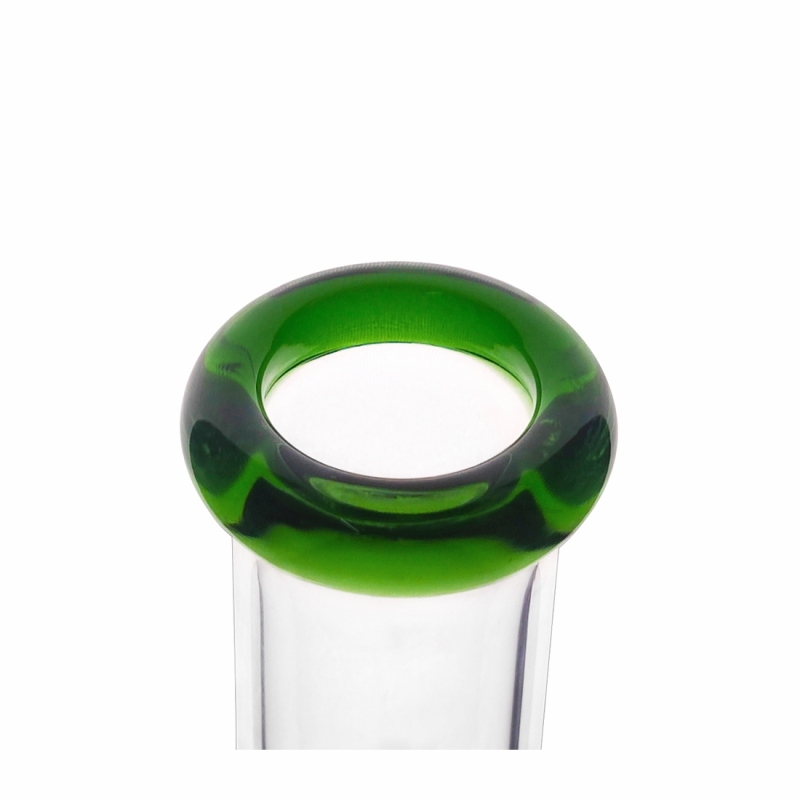 Promises and guarantees:
1, Your items will be shipped out within 3 working days after order comfirmed.
2, Normally, ePacket takes 10-23days shipping depends on weather and carrier.
3, Please send us pictures if your items were broken during the transit, we will arrange reshipment within 3 working days after checked out.
4, If your parcel was returned by custom, please send us a new and different address for reshipment.
5, Please contact us (Email:tianluo@sharebongs.com) if you need any help. Please try to communicate before open a dispute.
For more Warranty and Return, please visit the Warranty and Return page.

FEATURES:

Heady glass,Colorful bongs,Triple Honeycomb,Ice pinch
ByDD*5**Thursday, 13 May 2021
Ordered this on a Saturday after reading multiple reviews. it arrived on that Tuesday. This is the first online order that iv'e ever written a review on. I'm very happy with this bong, pulls very well. Function couldn't be better and shipping is spot on. It was also packaged very well with no chance of it breaking. Sharebongs really does care about their customers and it shows. Thanks for getting it to me safe and sound!
Read more
Read less
ByBBJJ**DMonday, 19 April 2021
ByHHH88Monday, 19 April 2021
I love this piece, it hits very smoothly and is exactly what I was looking for. The only thing I wish was different, is that the bowl was a little further out on the piece. My Dad would refer to this as a nose burner, and its a little true, you can definitely feel the heat from your lighter when you're taking a hit.
Read more
Read less
ByDANIERMonday, 19 April 2021
Bybn88***w2Sunday, 18 April 2021
great straight tube,I will recommend the glass bong to my friends
Read more
Read less
ByBDY**74Sunday, 18 April 2021
Wow, the seller was amazing. They answered all the questions I had, shipped it the next morning and I received it in about 2.5 weeks. Which I think is pretty fast due to covid right now. Will be ordering again!!! I loved how well it was packaged, it came in a very well packages box and it was wrapped nicely in this bubble wrapping.
Read more
Read less
ByGFVGBFriday, 16 April 2021
ByHFAF.FFriday, 16 April 2021
ByGG .KThursday, 15 April 2021
Byffff888**3Thursday, 15 April 2021
Amazing communication, product as describe an even better than on picture, super thick glass piece offering a nice clean hit, the airflow is simply amazing and cool-down the smoke magicly! Thanks my friend
Read more
Read less
Bywehj77**1Tuesday, 13 April 2021
Very beautiful and high quality glass thank you very much product came quickly
Read more
Read less
Byxdd5*eeMonday, 12 April 2021
Nice water pipes,Very fast delivery. less than 10 days. I advise product and seller.
Read more
Read less
You must be 21 years or older to browse this website and purchase products.
Share Bongs is an online store for smoking accessories. All Glass Bong or Dab Rigs are intended for legal dry herb or tobacco usage. The statements and vaporizers & products shown on this website have not been evaluated by the US Food and Drug Administration (FDA). These devices are not designed to diagnose, cure, prevent, or treat any disease. Before using a vaporizer, please consult with a licensed health care provider. If you use a vaporizer, you do so at your own risk. Inhalation is inadvisable and may potentially be harmful. Any comments from user-submitted reviews found on this website are related to the users own personal experiences, and are not endorsed, reviewed, or necessarily shared by sharebongs.com or its affiliates. Vaporizing does not necessarily eliminate any and all toxins found in vaporized substances, so much care should be taken prior to use. By using sharebongs.com, you acknowledge and agree to abide by our Terms of Use page before making any purchase on this website.